It's that time of the year love birds.  The time where we pair up and celebrate the most wonderful feeling we as humans have to offer; love.  Many couples will celebrate through conventional means, such as chocolate sweets or elegant dinners.  Let's be real though, your not most couples.  Whether it's your PIC (partner in crime), or your regular swole-mate, we have some body shredding partner exercises for you to perform.
These exercises are a total body workout and will get you burning calories.  They will pin your partner's weight against you, to build up some resistance for each movement.
Repeat this circuit 5 times.  Always alternate between movements for each partner, before moving onto the next exercise.
Band Sprints – 100 meters
Partner B wraps a resistance band around Partner A's waist and hold both ends.
Partner B holds the end of the resistance band with a braced core, bent knees, and hips back.
Partner A then sprints forward, keeping a tight resistances throughout the band.
Switch positions on your way back.
Partner Row – 10 reps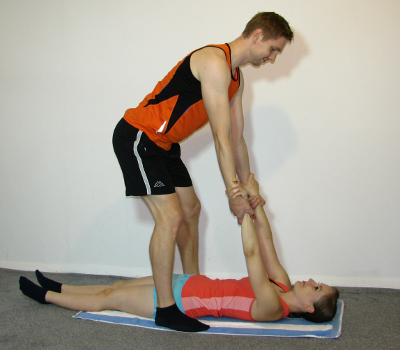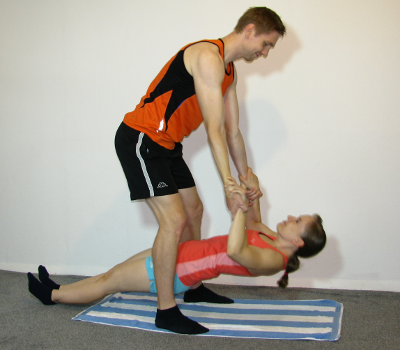 Laying down on the ground Partner A grabs onto Partner B's arms, with Partner B's legs straight.
Partner A performs a row toward Partner B with elbows bending and shoulder blades squeezing back together.
While Partner A is performing this motion, Partner B knees are bent and arms extended; keeping a constant tension.
Partner A then returns slowly back into original position.
Ball Sit ups – 10 reps
Partner A starts by laying down on the ground, knees bent with a medicine ball in hands above their head.
Partner B should be in a seated position facing Partner A with feet wrapped around Partner A's legs.
Partner A then sits up with the ball and passes/tosses it to Partner B.
Partner B then lays down with the ball and repeats the process.
Leg Throw Downs – 15 reps
Partner A starts by laying flat down on their back, while Partner B stands over Partner A's head.
Partner A then grabs the back of Partner B's legs/ankles for stability.
Partner A lifts both legs up together, as straight as possible.
At the top of the lift, Partner B pushes the legs back down to the ground.
Partner Pistol Squats – 10 reps per leg
Partners A and B start by facing each other, about one foot apart
Holding each others forearms, arms slightly bent and parallel to each other.
Both Partners then lift their right foot off the ground and extend it straight out from their right hip.
They then slowly start bending hips back and lowering into a squat position with the left knee.
Abs should be flexed and back straight while doing this motion.
Pausing for a moment at the bottom of their squat, both partners then slowly stand back up.
Switch legs after reps are finished.
Push-up and Squat – 10 reps
Partner A begins in a high plank position, with arms straight, shoulders above wrists, and core flexed.
Partner B stands at Partner A's feet.
Partner B grabs Partner A's ankles, so that Partner A is in a "wheelbarrow" position.
Partner A then lowers into a push-up, while Partner B simultaneously lowers into a squat.
As Partner A pushes up to resting position, Partner B will follow.
Jump overs – 10 reps
Partner A will start off holding a forearm plank position.
Partner B will begin at Partner A's feet and begin jumping over to the other side.
Use both feet and jump laterally over, landing in a slight squat position.
Repeat this process by immediately jumping back over to the other side.